LUX Introduces the First Dimmable, UL Certified, LED Filament Bulbs
Adddate:2015/5/14 Hits:2881
LUX Introduces the First Dimmable, UL Certified, LED Filament Bulbs
LUX Technology Group (www.luxtg.com), introduces the first line of dimmable filament LED Edison light bulbs—the perfect energy efficient replacements for 25W, 40W and 60W incandescent bulbs. With its beautiful all-glass design, it looks stunning and emits the same warm light as an incandescent bulb with the long life and high efficiency benefits of LED lighting. The filament LEDs offer 90% energy savings and excellent efficacy of over 135 lumens per watt, eliminating the need to sacrifice design for efficiency in restaurant, hospitality and residential spaces.
LUX is the first to market with the only dimmable, UL Certified LED filament engineered with proprietary protection coating, without a cloudy look. With no plastic ring, the bulb feels and looks as good as a vintage 25W, 40W or 60W Edison bulb, but uses only one tenth of the power, opening up new and dramatic design possibilities with LED lighting.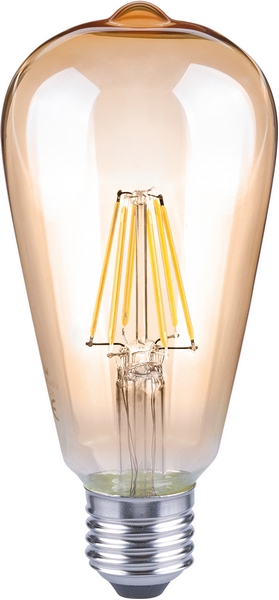 Lux's UL Certified LED filament bulb. (Lux/LEDinside)
LUX Technology Group, in partnership with Lattice Power, boasts a product line of over 200 affordable LED lighting solutions, all with advanced technology using a fraction of the energy and up to 15 times the lifespan of non-LEDs. Included in this product line are A19, G25, ST19 Edison, T10, and 3 Candelabra dimmable LED filament bulbs, all available in clear and Vintage Amber coating and in a range of color temperatures (1800K to 5000K).
LUX maintains offices in Norway, Panama, China, with its headquarters in California, USA. It also has representatives in many other countries and throughout the United States, not to mention over 50 PhDs dedicated to research, development, and production. Ranging from residential to commercial and municipal applications, LUX is ready to See What's Possible.
For more information, visit www.luxtg.com.